Rustproofing oil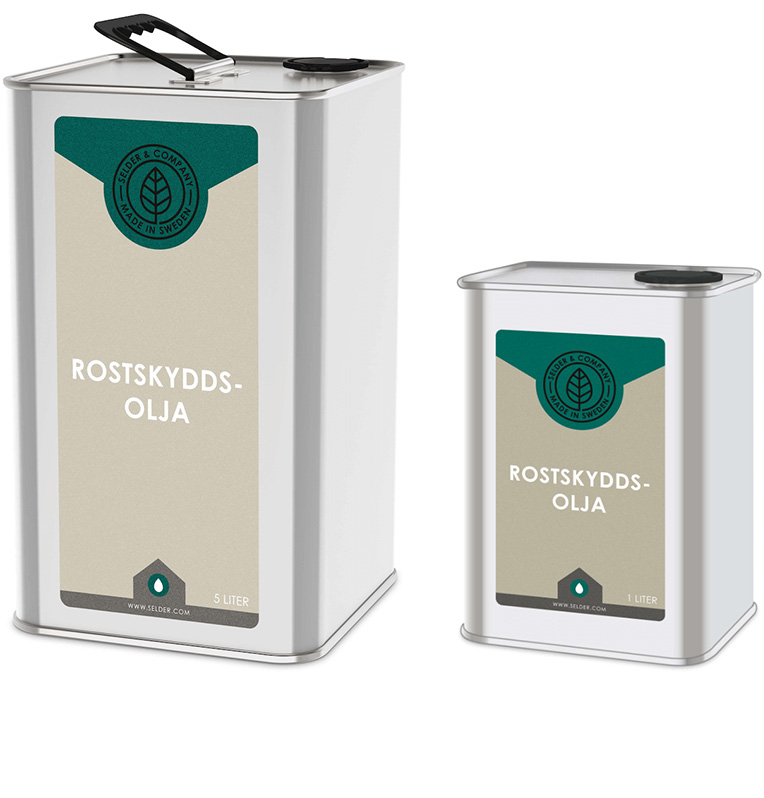 Prevent oxidation with RUSTPROOFING OIL
Drying oil that penetrates the surface structure of clean or corroded metal and prevents oxidation. Contains no solvent.
Packaged in 1 liter and 5 liter tin canisters and in 200 and 1000 liter barrels.
RUSTPROOFING OIL is linseed oil from which the non-drying components have been removed by our unique refining method. It penetrates the substrate and dries quickly through a reaction with the oxygen in the air to form linoxin, a natural polymer with good adhesion. It is non-biodegradable, water-repellent and resistant to fats, petroleum products, salts and household acids, e.g. lemon, wine, vinegar.
At 20 °C and good ventilation, RUSTPROOFING OIL dries within a day.
Read more about our TECHNOLOGY.
How to use RUSTPROOFING OIL
RUSTPROOFING OIL PROVIDES BETTER PROTECTION THAN COMMON LINSEED OIL
Linseed oil contains components that react with water: waxes from the seed coat that form a gel with water, and non-drying fatty acids that do not dry but go rancid and emulsify with water. Therefore, water comes into contact with the metal under the oil film and causes further rust.
Traditionally, one tries to circumvent these inconveniences by burning linseed oil: one heats the workpiece in an ace or in a gas flame until it glows. When it is dipped in linseed oil, a small explosion occurs and the workpiece turns black.
We have solved the problem by removing all components from the linseed oil except the oxidizing fatty acids, which we boil. The result is an oil that no living organisms can assimilate, that does not react with water, that dries completely and that penetrates the microstructure of the surface of the substrate – it proved impossible to scrape off the dried remains of our oil from polished stainless vessels steel that contained it. Only prolonged soaking in strong soap dissolves our dried oil.
Dried RUSTPROOFING OIL is an excellent primer provided the excess has been removed from the surface before it has dried.
Clean, non-corroded metal surfaces are also effectively protected from rust by painting them with Selder & Company's linseed oil paints. They consist of 45% vol. of binders that have the same composition and the same properties as RUSTPROOFING OIL. Selder & Company's linseed oil paints adhere permanently to the oiled surface and never flake off. They can be easily maintained every 10-30 years depending on the amount of UV radiation that breaks down the refined linseed oil binder.
If you have questions or other concerns regarding ROSTSKYDDSOLJA, you are most welcome to contact us.
Instructions for use for RUSTPROOFING OIL
SELDER & COMPANY AB
INSTRUCTIONS FOR USE FOR RUSTPROOFING OIL
The work is markedly different from that of other anti-rust oils.
READ CAREFULLY FOR A GOOD RESULT.
Download the user manual in PDF.
The technical data sheet and the safety data sheet in PDF can be found under the "Data sheet" tab in the main menu.