Linseed oil paints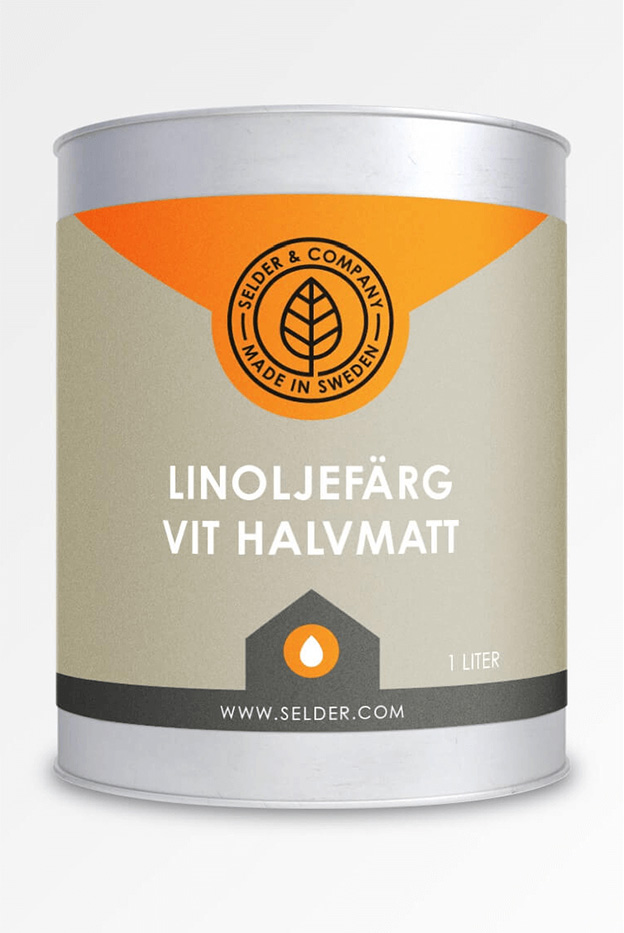 Unique linseed oil paints produced
of tradition
Selder manufactures a modern linseed oil paint that does not renounce tradition.
We manufacture linseed oil paint which is zinc-based. Base color, semi-gloss and semi-matt finishing paint, white and A-, B- and C-base for refraction with certified and modern pigments.
Linseed oil paint dulls over time because the linseed oil is broken down by UV radiation. This is usually first visible on the south side where the hours of sunshine are longer and it is more visible on dark colors than on light ones. That the linseed oil paint becomes dull outdoors is natural and nothing that requires action other than for reasons of appearance. The linseed oil that has penetrated the wood still protects.
Synthetic paints retain their color longer than linseed oil paint, because it is not degraded by UV radiation. On the other hand, the linseed oil paint's original color comes back by ironing on a thin layer of linseed oil.
If you choose linseed oil paint, be prepared that it requires maintenance to stay fresh.
The colors are broken into the desired NCS, RAL, RAÄ and our own colors on modern machines that use our breaking system. This makes us different from other linseed oil paint manufacturers. Thanks to this, we have fast deliveries of broken paint.
The colors are painted:
outdoors and indoors, on most surfaces – from wood to metal
usually one coat of primer and two coats of final coat.
with brush, sprayer or roller.
to covering layers. One liter of paint then covers 8 – 14 m² per coat depending on the substrate and each dried paint layer is 70 – 120 μm (0.07 – 0.12 mm) thick.
The colors dry in less than 24 hours at 20 °C and good ventilation.
The white colors are packaged in 0.5-, 1- and 5-liter cans, the base color and the breaking bases in 0.45, 0.9 and 4.5-liter cans to leave room for breaking paste.
Durable and mould-free
The colors contain a lot of pigment – one brushstroke of color covers a large surface. Despite this, the viscosity of the colors is optimal as the pigment is extremely finely distributed.
The binder – linseed oil from which the non-drying components have been removed using our unique refining method – is non-biodegradable and water-repellent. It penetrates the substrate and dries through a reaction with the oxygen in the air to linoxin, a natural polymer with good adhesion. Read more under TECHNOLOGY.
Our linseed oil paints penetrate the substrate and breathe. The linseed oil paint lets water vapor through but not liquid water, so it won't flake.
Easy maintenance
Our paints age because the molecular chains in the polymerized binder are slowly broken down by UV radiation. When this happens, after a couple of decades in shady locations in the north, down to after a few years in sun-drenched locations in the tropics, the color dulls and fades; the color "chalk". A thin layer of LINSEED OIL VARNISH replaces the lost binder and instantly gives the surface its original color and shine. With this simple maintenance measure, the life of the colors is long. If maintenance is neglected for a long time, eventually cracks form in the paint layer – a typical crocodile skin pattern is formed, and individual squares of paint begin to detach from the substrate. Such color surfaces from the first half of the 20th century are not uncommon.
If you have questions or other concerns regarding Selder's linseed oil paint, you are most welcome to contact us.
Instructions for use for linseed oil paint
SELDER & COMPANY AB
The work is markedly different both from painting with synthetic colors and with other linseed oil colors. READ CAREFULLY FOR A GOOD RESULT.
First read the summary and then check the chapters that are relevant to you by clicking on the respective lines in the TABLE OF CONTENTS below.
Summary
Selder linseed oil paints can be painted with a brush, sprayer or roller on most surfaces – from wood to metal. It is possible to paint on any surface, but plaster, for example, requires an enormous amount of paint because it is absorbent, the result can then be flaming.
Do not paint on a damp painting surface, if there is a risk of rain or if the daily temperature is expected to drop below 5 degrees.
The painting base must be dry, clean and tight.
Paint only on at least air-dried wood, i.e. those with a moisture content of less than 12%.

Before priming with LINSEED OIL PAINT PRIMER:
Seal twigs and resin gaps with Selder SCHELLAC.
Saturate porous surfaces with Selder PRIMER OIL or LINSEED OIL VARNISH, otherwise too much binder will be absorbed by the primer.
Impregnate wooden surfaces in exposed position outdoors with warm Selder PRIMER OIL.​​
Make sure no water gets into the paint base from behind. Water in the paint base and considerable movement in wood caused by fluctuations in humidity will cause even linseed oil paint to flake.​​
Mix the paint and shake the can so that the paint is completely homogeneous.​​
Ensure good ventilation.
Paint with good results
Do not dilute the paint, paint "straight from the can".
Brush painting: Work out the color, cross-stroke for an even surface.
Painting with a sprayer or roller: pay particular attention to a smooth surface.
First paint a covering but not thick layer of LINSEED OIL PAINT PRIMER, i.e. of 70 – 120 μm (0.07 – 0.12 mm) thickness. It adheres particularly well as it is particularly greasy, and it prevents the growth of mould, algae and lichens for decades on the finished paint surface as it contains 0.5 kg zinc oxide/litre. However, it is not as weather resistant as the finishing paints.
Allow the paint to dry thoroughly between strokes.
Wash brushes, tools and containers with strong soap before the paint dries.
Safety: The paint contains oxidizing fatty acids that can spontaneously ignite. Rags, shavings and other porous material moistened with LINSEED OIL PAINT must be soaked in water without delay.
PREPERATIONS
CLEAN THE SURFACE BEFORE PAINTING
Brush off dust and loose dirt, knock off loose rust with a hammer, grind off stuck-on dirt or blast with dry ice. Do not use water or alkaline cleaners as even a minimal residue will prevent the paint and oil from adhering to the paint base. If the surface is oily, you can degrease it with 99% alcohol.
SEALING TWIGS AND CORD RUNS WITH SHELL LACQUER

It prevents resin from bleeding through and discoloring the painted surface. In Selder SCHELLACK the shellac flakes are dissolved in 99.5% alcohol. Lower alcohol shellac contains water that evaporates after the alcohol has evaporated and the shellac has begun to set. The result is pores in the shellac – under a microscope the layer looks like a colander and the resin bleeds through. SCHELLACK dries in 1/2 – 1 hour.
Video: Mikkel Selder talks about shellac and shows how to use it. Selder SCHELLACK dries in a few minutes. Oil treat if necessary according to the instructions below. Prime with LINSEED OIL PAINT PRIMER.
ALREADY PAINTED SURFACE – PLASTER AND CONCRETE
Saturate with PRIMER OIL at room temperature. Apply with brush. Spread from places that are saturated to places that are still absorbing oil. Continue until the entire surface is saturated. Wipe off: After 1 – 2 hours, thoroughly wipe off any oil remaining on the surface; otherwise it forms a sticky skin. Wash brushes, tools and containers with strong soap before the oil dries.
Video: Mikkel Selder shows how to wash brushes with COARSE SOAP. Allow time to oxidize: At 20 ⁰C and good ventilation, the oil dries within 24 hours. It dries by oxidation and the drying time depends on 1. the oxygen supply and 2. the temperature. In wind and solar heat the surface can become dry to the touch in a few hours, in a cool garage with poor ventilation it can take up to a week. Prime with LINSEED OIL PAINT PRIMER.
WOODEN SURFACES FROM WHICH PAINT HAS BEEN REMOVED WITH HOT AIR BLOWERS OR IR HEATER
The heat treatment makes the wood extremely dry and absorbent. Such surfaces should be saturated with 130 °C hot PRIMER OIL. Read the instructions below under "WOOD EXPOSED OUTDOOR".
WOODEN SURFACES FROM WHICH PAINT HAS BEEN REMOVED WITH HOT AIR BLOWERS OR IR HEATER (click to read the chapter)
MDF PANELS, PRESSURE IMPREGNATED WOOD, POROUS FIBER CEMENT OR CONCRETE ROOF PANELS (click to read the chapter)
WOOD IN EXPOSED OUTDOORS (click to read the chapter)
RUSTY (CORRODED) METAL (click to read the chapter)
GALVANIZED PLASTIC COATED SHEET ROOF (click to read the chapter)
PURE METAL (click to read the chapter)
GLASS (click to read the chapter)
PAINTING WITH A NICE AND SUSTAINABLE RESULT
GENERAL (click to read the chapter)
SEMI-MATTE (HM) OR SEMI-GLOSS (HB) FINAL COATING COLOR (click to read the chapter)
MIX SO THAT THE COLOR IS HOMOGENEOUS (click to read the chapter)
DO NOT DILUTE THE COLOR (click to read the chapter)
PAINTING RIGHT WITH A BRUSH (click to read the chapter)
PAINTING WITH A NICE RESULT ON SMOOTH SURFACES (click to read the chapter)
PAINTING WITH SPRAY OR ROLLERS (click to read the chapter)
DRYING TIME VARY (click to read the chapter)
LINSOIL PAINT CURES SLOWLY AFTER DRYING (click to read chapter)
MAINTENANCE (click to read the chapter)